Are you bogged down with a persistent clog in your sewer line? Are you frustrated with slow flowing drains and backed up sewage? Don't take the risk by waiting any longer, or your sewer lines will cause aggravated damage to your property. Leave sewer line cleaning to the highly trained plumbing professionals at Ranger Plumbing Company. Our team of sewer line cleaning technicians have treated hundreds of sewer pipes in homes and businesses throughout Fort Bend County and we can help you, too. We are trained and experienced in a variety of effective modern sewer cleaning techniques, including high pressure water jetting and hydro jetting systems to open up clogged sewer pipes, plus traditional sewer line cleaning, as well. 
effective sewer line cleaning
Ranger Plumbing Company offers a highly effective sewer line cleaning process that unclogs sewer pipes, jets out debris and other materials from pipes, and removes scale and other build up on the interior surface of pipes. We have become expert sewer line cleaning solution providers and know the correct way to effectively clean sewer lines without damaging them. We initially inspect the sewer line to identify where clogs are happening, open up and clean the sewer line and follow it up with a camera inspection to make sure that the pipe is thoroughly cleaned. Our special sewer cleaning process gets rid of accumulated waste, scale, debris, grease, clogs, dirt, minerals and much more to open up the sewer line and maximize the drainage that the sewer line was designed to complete.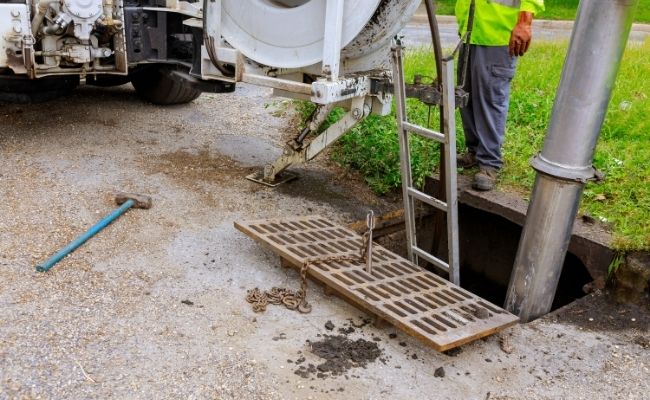 dedicated plumbing experts skilled in cleaning sewer lines
Ranger Plumbing has extensive experience in unclogging and cleaning sewer drains in homes and businesses throughout the area. Plus, we have the industry credentials and customer reviews to back up our great reputation. See our top-rated reviews and recommendations from hundreds of satisfied customers at CustomerLobby, Google, Facebook, HomeGuide, and Yelp. We also have been an Accredited Business since 2002 with the Better Business Bureau with an A+ Rating.
We proudly serve:
Sugar Land | Missouri City | Needville | Richmond | Rosenberg |Stafford | Fulshear
are you ready to call the experts in sewer line cleaning?
When you need an effective plumber to clean a sewer line and return your drains to normal operation, call Ranger Plumbing right away. We provide consultations for our long lasting sewer line cleaning solutions.