gas line services: repair
Are you having problems with gas lines in your home or business? Are you ready to repair outdated gas lines or upgrade gas lines? Get your gas lines repaired perfectly by the gas line service experts at Ranger Plumbing Company. We can handle any gas line repair no matter how small or how complex. Call us for a gas line repair evaluation to discuss the most effective solutions for repairing gas lines in your home or business, based on your requirements, needs and budget.
Complete provider gas line repair
Gas line repair is not a DIY project, and depending on the municipality you live in, gas line service may only be allowed by certified gas line repair professionals. Let the fully licensed, bonded and insured plumbing and gas line repair crew at Ranger Plumbing take care of any gas line repairs today. We handle all repairs of gas lines, from the main gas line to the gas lines in your home to the connections to every appliance.
The gas line repair team at Ranger Plumbing provides complete solutions for gas line service and repair, including:
Appliance ducting
Corrugated stainless steel tubing
Gas line connectors
Gas line fittings, brass
Gas line valves
Gas piping, copper
Gas piping, flexible
Gas piping, steel
Natural gas lines
Underground gas lines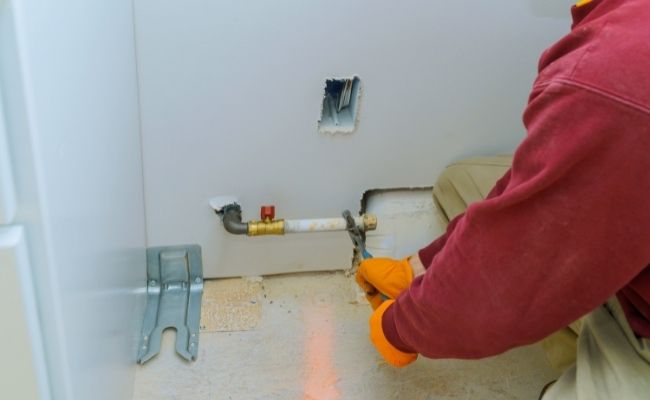 gas line repair solutions by ranger plumbing
When you need assistance in repairing a gas line, get in touch with the gas line repair experts at Ranger Plumbing Company. If you suspect a gas leak, play it safe and call 911 and your gas company. Once you leave the premises and are in a safe location, contact Ranger Plumbing Company for assistance in repairing the ailing gas line. We provide residential and commercial customers with complete gas line repair services. 
We proudly serve:
Sugar Land | Missouri City | Needville | Richmond | Rosenberg |Stafford | Fulshear
call the plumbing company that is ready whenever you need help with plumbing
Call locally owned and operated Ranger Plumbing today and we'll take care of your plumbing problem for you. We provide the easiest and most convenient plumbing services tailored for you. We work to efficiently diagnose the targeted plumbing problem, select the best options and solutions, and fix the problem quickly, efficiently, and affordably. Plus, we stand by our work. We are fully licensed, bonded and insured for your protection. We clean up the work area before we leave. We're waiting for your call. Let us help you today!