Plumbing line replacement
Recapture the great feeling of safety and security in your home with professional plumbing line replacement by Ranger Plumbing, the leading plumbing company in Fort Bend County. Pipe replacement is required when old sewer pipes fail by breaking, bursting, leaking when they wear down, deteriorate or get damaged.
If you notice a bad odor that comes from your sewer line, the pipes could be broken, clogged or damaged. This requires plumbing line replacement. Have one of our certified plumbers inspect the existing sewer line to determine if there is a need to repair or replace the sewer line. Understand the consequences of neglecting repair or replacement of a damaged sewer line. The yard in which the plumbing line is buried may be damaged extensively if sewage backs up and pipes crack or explode.
best solutions for plumbing line replacement
If proper maintenance of piping is ignored for too long, sediments and debris can accumulate to a level that causes pipes to fail in weak spots as the water pressure build up. Exterior buried drain pipes can also be severely compromised by tree roots and heavy loads above them, too. Replacement and repair of pipes come into play when leaks, cracks and breaks are detected. It's critical to have a professional plumber examine a suspected damaged pipe to determine the extent of the problem. Left neglected, a damaged pipe can cause serious water damage to the floors, walls and ceilings of your home, which can even sustain structural damage quickly.
In the past, the whole yard had to be excavated for plumbing line replacement. We use modern techniques to mitigate the excavation required for a plumbing line replacement. Broken sewer lines not only jeopardize the interior of your home and decrease its market value, but it can jeopardize the health of you and your family from the risk of contaminants, mold and mildew. The most important step you can take is to act fast and make a decision to repair the plumbing line. If you are afraid that a sewer pipe is damaged, call the plumbing line replacement  specialists at Ranger Plumbing to inspect the plumbing line and analyze whether or not a plumbing line replacement is required. 
We replace sewer pipes, drain lines, hot and cold fresh water supply lines, and gas lines, including:
Copper pipes
Flexible copper tubing
PEX water supply lines
Polyvinyl Chloride – PVC- pipes
Rigid copper piping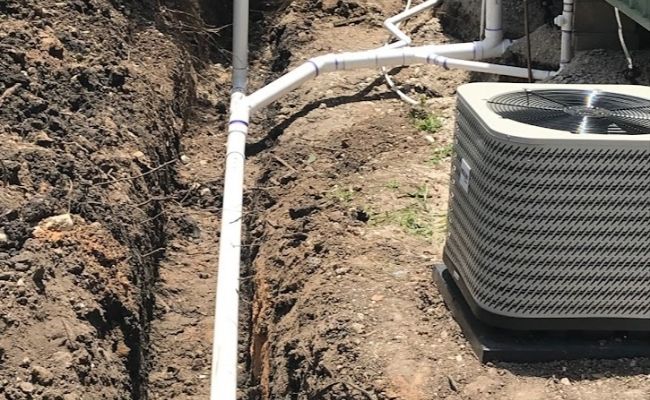 Highly rated plumbing services
When you need plumbing repair or installation services in the Fort Bend County area, call us. We offer superior plumbing service, and our customers agree. See our top-rated reviews and recommendations from hundreds of satisfied customers at CustomerLobby, Google, Facebook, HomeGuide, and Yelp. We also have been an Accredited Business since 2002 with the Better Business Bureau with an A+ Rating.
We proudly serve:
Sugar Land | Missouri City | Needville | Richmond | Rosenberg |Stafford | Fulshear
call the plumbing company that is ready whenever you need help with plumbing
Call locally owned and operated Ranger Plumbing today and we'll take care of your plumbing problem for you. We provide the easiest and most convenient plumbing services tailored for you. We work to efficiently diagnose the targeted plumbing problem, select the best options and solutions, and fix the problem quickly, efficiently, and affordably. Plus, we stand by our work. We are fully licensed, bonded and insured for your protection. We clean up the work area before we leave. We're waiting for your call. Let us help you today!